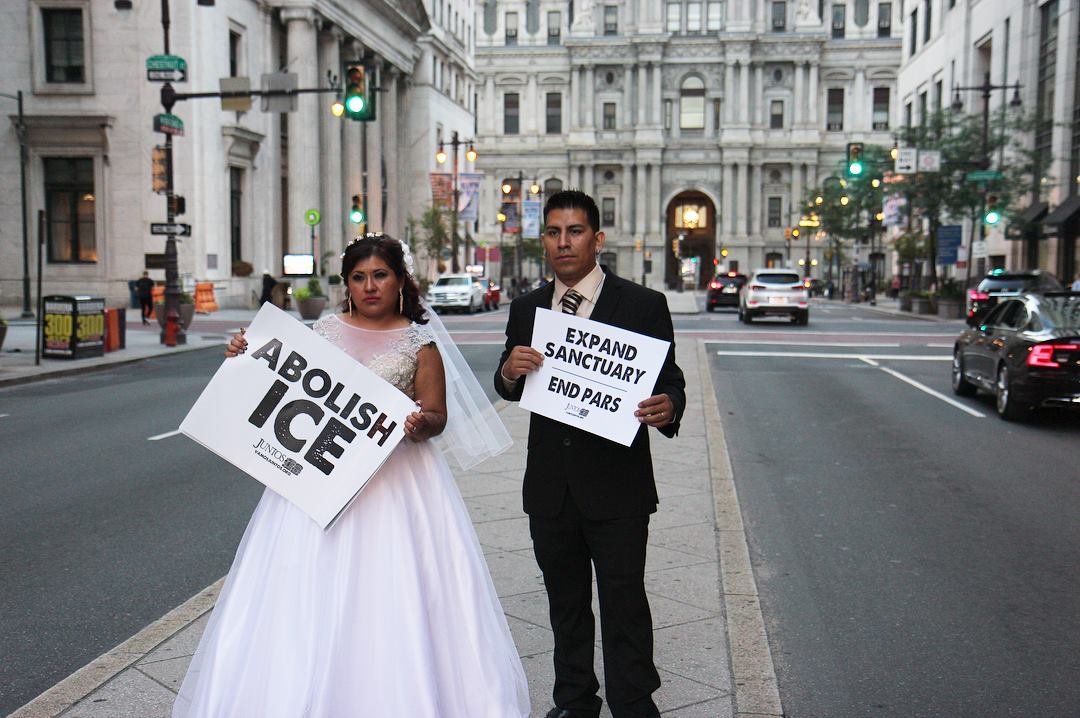 Expanding Sanctuary is a short-form documentary about the Latinx immigrant community in Philadelphia. Despite Philadelphia's sanctuary status, the city's sharing of its police database with ICE has left immigrant families vulnerable to deportation without due process. This is how Juntos, an immigrant rights nonprofit, worked with Latinx immigrant community members to limit surveillance.
SHORT SUMMARY
For over 10 years, Immigration and Customs Enforcement (ICE) had access to information through the Philadelphia Police Preliminary Arraignment Reporting System (PARS) leading to an increase in detainments and deportations. In March 2018, immigrant rights organization Juntos teamed up with Philadelphia's Latinx immigrant community to put an end to this unconstitutional agreement. Shot over the course of a year, the upcoming documentary Expanding Sanctuary aims to reflect the perspective of South Philadelphia's Latinx immigrant community and Juntos, as they fight for landmark policies to limit deportations in their city.
Utilizing the PARS database, ICE exploited demographic information to racially profile immigrants, subsequently carrying out detainments and deportations. ICE had access to the police database through a city contract set to renew in August 2018. From the first community meetings to the mayor's historic decision to end database sharing, Expanding Sanctuary follows the grassroots campaign to end the PARS agreement and to pass one of the country's first legislations expanding the protections of sanctuary cities. The film documents a critical moment in immigrant rights in the United States, while providing a guide for other organizations to achieve similar victories in their cities.
WHAT EXACTLY DID PARS SHARE WITH ICE?

The database holds personal information of not only those arrested, but anyone who has had any contact with the police. This means ICE had access to victims, witnesses, and those fingerprinted at the border. Utilizing the PARS database to cross-check fingerprints and racially profile by demographic information, ICE had been processing deportation orders throughout the city.

WHO IS JUNTOS?

Juntos is a community-led, Latinx immigrant rights organization in South Philadelphia fighting for our human rights as workers, parents, youth, and immigrants. They believe that every human being has the right to a quality education and the freedom to live with dignity regardless of immigration status. Juntos combines leadership development, community organizing, and focused collaborations with other community-based and advocacy organizations to build the power of their community members so they may be active agents of change and work against their own oppression. Juntos members in the film include: Executive Director Erikaand Communications Manager Miguel. As the only film crew following Juntos, we aim to document a historic moment in immigrant and human rights legislation in the U.S. through the eyes of the Latinx immigrant community.

HOW THE STORY IS TOLD?
Through interviews, observational footage, and social media videos, the film follows the beginning of the campaign to end the PARS agreement. Camera in hand, director Kristal Sotomayor captured the efforts of Juntos and the Philadelphia Latinx immigrant community herself. As an outsider to the community, it is her responsibility to ensure the safety and protection of characters and their families. Particularly during this current presidential administration, sanctuary cities and immigrant activists have been directly targeted by ICE deportation raids. For this reason, the filmmaker is working with community partner Juntos to gain access and to ensure that immigration statuses are confidential. A key aspect of this film is coordinating several rough and final cut screenings at the Juntos office for community members to watch the film and provide feedback.

HOW CAN YOU HELP?
Though we have hours of beautiful, powerful footage of the campaign, we need funding to bring this story to life in a 26 minute documentary. In a political climate rampant with xenophobia, this film demonstrates the beauty, resilience, and power of Latinx immigrant communities. We hope you take this opportunity to support the often untold and underpresented stories of immigrant communities.
Donate via Credit Card or eCheck
Expanding Sanctuary FAQ
Is my donation tax deductible?
Yes, we are a fiscally sponsored project of CultureTrust Greater Philadelphia , which is a public 501c3 organization recognized by the IRS. Your donation is tax-deductible to the fullest extent permissible by law.
WeDidIt FAQ
Is my donation and credit card info secure?
Yes, the security and confidentiality of your information is our highest priority. We will not sell, trade or share your personal information with anyone else, nor send donor mailings on behalf of other organizations, and we will only share personal information if you have given us specific permission to do so.
How do I know that my donation was made successfully?
You will receive an emailed receipt immediately after your donation is submitted and your credit card is processed. Your donation will also show up on your bank or card statement within 1-3 business days.
Do I get a receipt?
Yes, a receipt is sent to your email inbox once your donation is processed. Please be sure to keep a copy of your receipt for tax purposes. If you select a recurring donation, you will be sent an individual receipt each period when your donation is processed.
Is my donation private?
We will not share or sell a donor's personal information with anyone else, nor send donor mailings on behalf of other organizations.